When it comes to cars, sometimes less is more. Small cars may not have the size and power of their larger counterparts, but they make up for it in agility, fuel efficiency, and affordability. And don't let their size fool you - there are plenty of small cars out there that pack a big punch. In fact, we've compiled a list of the top 5 small cars that are sure to impress. From zippy hatchbacks to sporty coupes, these cars offer plenty of power and performance in a compact package.
So, whether you're looking for a daily driver or a weekend cruiser, these small cars prove that good things really do come in small packages!
Fiat 500 La Prima
The advent of electric technology has revolutionised the small car market in recent years, and Fiat is making it even more impressive!
La Prima, translating to 'the first', is Fiat's initial all-electric model, with the brand claiming that it is the world's first-ever purely electric four-seater convertible to hit the market. Boasting a remarkable 199 miles, this electrically engineered masterpiece offers so much flexibility for its drivers.
From wireless charging to mobile charging stations, the latest technology is making it easier than ever to keep your electric vehicle charged up and ready to go. Coming with a basic 3.0 kW wall charger for home charging, which can be upgraded to a 7.4 kW unit that can provide a full charge in six hours – making electric vehicle charging a breeze.
With a 0-60 acceleration speed of 8.7 seconds, this 3-door, automatic, electric car is sure to elevate your street style, whilst being an environmental icon – get yours here!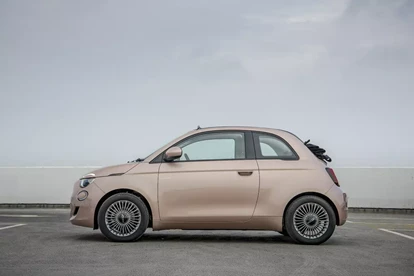 Volkswagen Up
Looking for a 3-door hatchback with an impressive 55.4 mpg? Look no further than the Volkswagen up!
With its sleek design, spacious interior, and advanced safety features, the Up has quickly become a popular choice for urban commuters and city dwellers. But what truly sets this car apart is its commitment to sustainability, with a range of eco-friendly options that make it one of the most environmentally conscious vehicles on the market.
Combining both practicality and reliability, getting from A to B in style has never been easier. Facts? Well, the up!'s 65 bhp can take you to a speed of 62 mph in just 15.6 seconds – yet emitting a low 115 g/km of co2. It really is an all-rounder!
With a personal lease starting from £210 per month, this 1.0-litre powerplant engine offers so much – yet, if you want to take it to the next level, the R-Line model will absolutely raise the bar!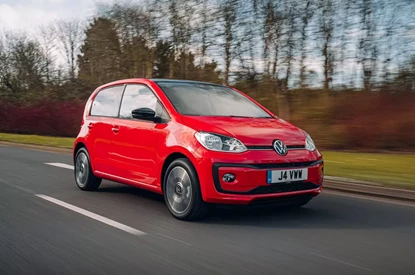 Suzuki Swift
If you're in the market for a small car that's efficient, stylish, and fun to drive, the hybrid Suzuki Swift has you covered!
This compact car combines all the best features of a small vehicle with the benefits of a hybrid powertrain, resulting in a vehicle that's both eco-friendly and practical. With its sporty design, responsive handling, and impressive fuel economy, the hybrid Suzuki Swift is the perfect choice for anyone who wants to enjoy the benefits of a small car without sacrificing performance or style.
The 5-door hatchback boasting a 1.2 Dualjet 83 12V engine offers 59.7 mpg with manual transmission to harness of all its power! With an updated fuel injection system that offers a more powerful response and higher fuel efficiency, 83 bhp has never come easier.
Check out the Suzuki Swift options available today, in an array of colours from Pearl Burning Read to Metallic Mineral Grey, make this car your own!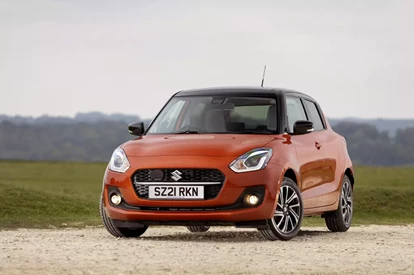 Kia Picanto
Offering the perfect balance between affordability and style, the Kia Picanto steals the show!
This compact car has been designed with efficiency in mind, making it the perfect choice for city driving and daily commuting. With its sleek and modern exterior, the Picanto is a stylish choice that doesn't sacrifice practicality.
But it's not just about looks – the Picanto also boasts impressive fuel economy, thanks to its efficient engine and lightweight design. With 53.2 mpg and only 122g/km of co2 emissions, offering 5 doors for ease, this smallest car category has been redefined!
This small but mighty car is a popular choice for both new and experienced drivers, thanks to its impressive features and unbeatable price point – from only £217 personal lease per month or £180 business lease per month, get your quote here!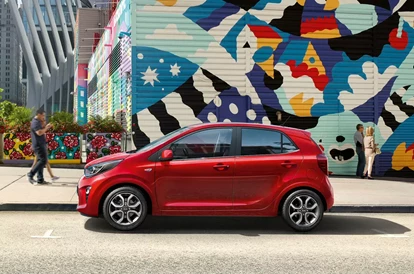 Mini Hatchback
Circling back to your electric vehicle options, the electric mini hatchback has been creating a buzz in the automobile industry, and for all the right reasons.
This small but mighty car packs a punch with its impressive performance, sleek design, and eco-friendliness. Its electric motor provides instant torque, making it a joy to drive, while its compact size makes it perfect for city driving and parking.
Its battery technology ensures an impressive range, making it suitable for long-distance trips – with a combined range of 145.4 miles without sacrificing its 184 bhp, the Mini redefines electric transportation! Charging through household plugs, wall boxes, or pod points – getting the most out of this electric car is easy.
This 135kW Sport Level 1 edition is available with us today, for both personal and business leases!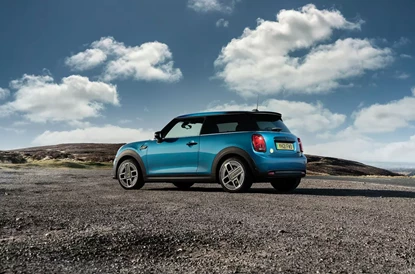 So, in conclusion, don't underestimate the value of a small car - it could be the perfect fit for your lifestyle and budget.