To increase the awareness and understanding of electric vehicles in general we have recently been encouraging our staff to drive them over the course of a few days so that they get to experience the day-to-day reality of life with a vehicle that needs charging!
David Casserley - Business Development Manager, based in Leicestershire test drove the Audi Q4 E-Tron.
What did you think of the vehicle?
Anyone jumping out of a current ICE Audi would have no problem getting up to speed with the instruments and controls fairly quickly. As everyone who's driven one has previously remarked, they're quiet and comfortable and the absence of an engine just seems to make you more aware of tyre and wind noise. It wasn't insanely fast in way that a Tesla is, but it was very much on par with what you'd expect an equivalent 2.0 Petrol or Diesel to be, and you can never really get away from the weight of those batteries. It's a very practical car with loads of space and I can see it doing all the jobs a family would need it to do.
In terms of fit and finish, it was fine but probably not what would normally be expected of something costing this much(£49k) with an Audi badge. The pre-heat feature was a very welcome bonus on cold morning though allowing the car and battery to be heated up to an efficient operating temperature when you came to depart.
How many miles did you do?
Approximately 250 over the space of a week.
Did you try to charge the vehicle?
I did. I charged it at an Instavolt charger at a local McDonalds which was convenient in that it doesn't require an app and you can pay with a credit/debit card. It cost around £12 and took around 40 mins to put around 105 miles into the battery. It was very easy to use and both chargers were free when I arrived., however, this is quite an expensive way to do it.
Could you charge at home?  If not, why?
Yes, I can and even though I don't have a home charger, the 3-pin plug adapter worked fine with the garage socket and topped the battery back up overnight.
Would you have an electric vehicle instead of your current petrol/diesel?

I was expecting to find far more fault with the experience than I did ( being a change-resistant middle-aged man, apparently). The car felt very mature and well executed and with a model of sufficient range, I could see an electric car as an option in the not-too-distant future, particularly if the tax system continues to favour it. I'd probably have a home charger fitted for speed of charging though.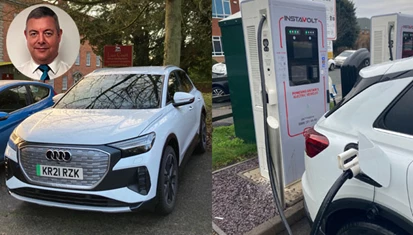 Check out our Audi Q4 E-tron deals!